Blog
Making that Decision
As a keen landscape photographer, I'm constantly checking the weather, tides and sun position. It's not the blue clear skies that inspire me but the atmospheric, moody and extreme conditions. After saying that, I don't often get it right and although you see a dramatic image from me it hasn't been my first attempt at photographing it.
So, I do my research and maybe look for changing conditions at sunrise and sunset times known as the golden hours. In my experience these weather changes can create amazing photograph opportunities. It could work out to be a long drive and a short walk or the other way round to reach a location in good time. I ask myself, "What chance do I have of arriving there and getting the shot I envisage?" and "Is it worth all the effort?"
I may lose sleep and use all my energy up for the day on a sunrise shoot. Nowadays I only have so much fuel in my tank before I feel fatigued.  Perhaps I'll convince myself that the exercise or should I say the aerobic workout will be beneficial to my health.
All these factors are the reasons to decide whether to take the easy route or the hard one. Taking yourself out of your comfort zone can reap rewards and in my photography world it can enable me to take an amazing photo and create another beautiful memory.
We all need to exercise, to breathe in the fresh air regularly and to get our bodies moving whether it's a flat sunny walk or a scramble up a Tor on Dartmoor on winter weather.
Another health factor I often think about is the constantly increasing screen time we spend on devices straining our poor eyes. Those precious peepers need to focus on distance subjects now and again and rest those tired focusing ciliary muscles!  I'm speaking from experience from years as a design engineer with deadlines and not taking regular breaks from my screen. Let's admit we are all guilty of staring at our TVs, computer monitors, tablets and mobile phones way too long despite the Healthy and Safety recommendations.
So, returning to the outdoors, it makes us feel good with the warmth of the sun beaming down and the wind blowing on your face. We all love a serene beautiful scene, walking through an enchanting wood or watching dramatic waves rolling in. These are life's special moments and experiences that may never be forgotten and images you can rely on in times of strife or stress.
I call it my Photogratherapy !
Keyhole Arch of Devon (November 2022)
Most UK landscape photographers are aware that every year in winter a natural spectacle occurs at the iconic Durdle Door in Dorset when you can observe the sun rise right through the famous arch.
Due to the way the Earth moves on its axis the chance to capture this spectacular 'through the keyhole' sight only exists for a few minutes each day for a couple of weeks.
In recent months I found a similar rocky archway in Devon where the sun sets through a similar keyhole. I worked out there's a range of dates during autumn and winter where you can see and experience this ethereal "Light Show."
How did I find this location? It wasn't by chance or exploring an unfamiliar coastline on foot that I found this arch. Initially it was curiosity and research on social media sites looking for new local photographic opportunities on East Prawle coastline. I came across a series of old photos of groups of students on a Plymouth University Environmental Science Field Trip.  I noticed an interesting arch in the background of one of the group pictures. I studied the geography on Google maps and pinpointed the arch and Langerstone Point where the students probably were. I was excited about the possibility that the sun or moon may shine directly through the arch.  I used applications like TPE – The Photographer's Ephemeris® which confirmed it will happen which made me even more determined to explore the location. Understanding the sun's motion relative to a site is an important aspect for a landscape photographer.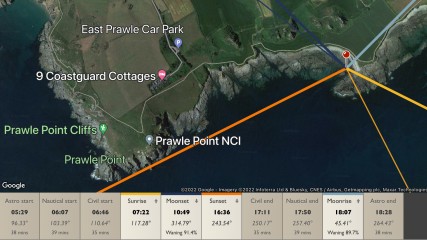 One autumn morning I headed for East Prawle for a recce to check out the area which was an hour drive on winding minor roads. On arrival unfortunately the National Trust car park near the coast was closed for renovation for a couple of weeks. I was in two minds to park in the village and walk 3/4 mile to the sea or revisit when the car park was reopened. For most visitors the very steep walk would deter a lot of people but I decided to hike down a steep track to the southwest coastal path and continue to my pinned location. The sea views were spectacular and it was soon evident that the rocky arch was exactly as I envisaged looking west. I had a quick wander and took a few shots with the 70-200mm f/2.8L IS II USM lens with and without a 1.4 extender.  This gave an ideal focal range for the distance subject on the headland. I tried several compositions at different height levels and angles on the beach. The hike back up was hard going with my heart condition and I'm not a spring chicken anymore but it was absolutely worth the effort. It gave me hope and confidence that I could create the image I had imagined a few months earlier.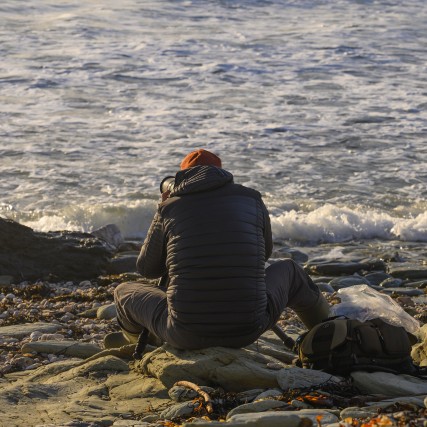 I like to think I've gained enough field craft and technical knowledge operating my camera after learning from many past mistakes. There are a few technical details to consider so this is my thought process after experiencing diverse shooting conditions over the years: -
I may have a problem with lens flare shooting into sun with the 70-200mm. A tripod is essential especially when using exposure bracketing technique with 3 different exposures. The scene will have a high dynamic range so it gives me the option to manual blend multiple images in photoshop. I'll shoot at different apertures to get a clean starburst through the archway which is likely to be my favourite f/11 up to f/20 for the twinkle. I use a cable remote and found a slower shutter multi burst is easier to control when bracketing. I always shoot in raw and record on dual cards simultaneously. Do I need to use lens filters because an extra piece of glass or resin would certainly reduce sharpness and affect the starburst? I won't have time to try long exposures or focus stacking.
A few practical tips I would recommend is firstly protecting your camera setup from the sea and rain. I use a tailored polythene cover over my Canon 5D mkiii and EF lens combination because they are not totally waterproof unlike the newer 'R' series cameras and 'RF' lenses. An umbrella is extremely useful for unexpected downpours, annoying sea spray and occasionally as a shade to prevent sun flare. A set of 3 inch spikes on the tripod legs would give stability in the sand but not on rocks so I'll opt for the rubber feet.
Safety has always got to be considered with seascape photography with the sea being so unpredictable.  The rocks could be slippery especially on an outgoing tide so footwear is important. I didn't want to risk clambering over rocks with my camera and tripod over my shoulder which I must admit I do quite often. I've seen over photographers pack their gear away in the backpack each time they move to a new position even if it's 30 metres away. It seemed a bit of a faff until you learn the hard way and trip and fall. I have damaged equipment and myself doing exactly that.  Wearing gloves will not only keep you warm but protect your hands on the sharp rocks.
I may have move along the rocks and beach at speed in sync with the sun dropping into the inner arch.
The first attempt of photographing the spectacular event was with my partner Liz. The weather looked promising for the evening with a chance of sunshine and breathing in the sea air is always good for the soul. Luckily the car park had reopened so after a pleasant 20 minutes flat walk we were taking photos from the beach.  The 2-3 foot waves were clean with an offshore wind blowing the sea spray back out to sea. We arrived an hour after high tide and an hour before sunset at 16.35. We started from the rocky outcrop with the gully on our left watching the waves dramatically cascading over the rocks on the other side. This was definitely a composition for another day. I noted that the 24-70mm would be best for capturing the cascades safely. But I was definitely using the 70-200mm with no extender for the archway exactly 932 metres (0.58 mile) away on the headland.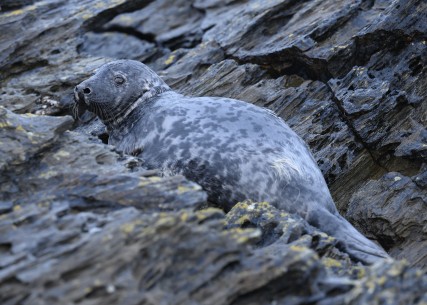 We were shocked to find a stranded young seal on the rocks that seemed to be injured but luckily there were no signs of blood. The poor pup, with a fine set of teeth, was struggling to move across rocks and getting stressed when approached so we left it alone for the next high tide.
Unfortunately, 30 minutes before sunset the low clouds obscured the sun so weren't going to see it burst through the arch in this outing. Importantly, the sun position seemed like it was going to miss the centre of the arch. I estimated it needed another week for it to set more southerly for the ideal solar alignment.  Slightly disheartened I managed a few good shots particularly a colourful long exposure image after the sun went down. It had been a stunning evening but time to walk back along the coastal path wearing our head torches.
On reflection, the first two visits to the beach were so useful to look for compositions and ease of access around the area taking into account the sea levels on certain tides.

I now knew the best dates in 2022 of sun alignment and exact location but there are natures elements that need to come together. There's the weather particularly the wind speed and direction and the tide height and sea conditions have to be right.
If any one of these factors changed it would prevent or reduce my chances of photographing the sun at the precise point on the rocky archway. A perfect sun alignment with a starburst would be the icing on the cake. This could be a unique image from Devon but surely that was unlikely?
It's no way near as epic as the Summer Solstice phenomenon at Stonehenge, when the sun sets in alignment with the stones. At least they'll be no crowds of people on the beach, just!
On the third attempt it looked like a 50% chance of getting a clear sky and a ball of sun kissing the horizon. The weather forecast for the following week was horrendous so I didn't want to miss the limited time slot! I was travelling on my own this time.
It certainly was an eventful evening starting with a long slow drive diverted through narrow country lanes with high Devonshire hedges the whole way.
I parked up and within a few minutes of hiking down the grassy path I stylishly went over on my left ankle and instantly became 'Lord of the Dance' trying to stay on my feet then sliding in the mud on my other foot to do a gymnastic encore. I ended up laying on my backpack looking up at blue sky after completing a forward roll head over boots. Luckily it was only my pride that was hurt. I limped onwards to the beach and sat down for a while to recover and take in the beautiful views.
I was admiring the archway as it sits 200 feet below Prawle Point Lookout, the most southernmost point of Devon.
The tide was low so I was able to move from the pebbly beach to the right and the rocky outcrops to the left. This was important to get the right shooting angle. The sky was still cloudless with a full beaming sun dropping nearer to the horizon every minute.
I started shooting from the rocks checking my settings and exposure bracketing at +/- 2 stops as planned. The sun was to the left-hand side and slightly above of the arch.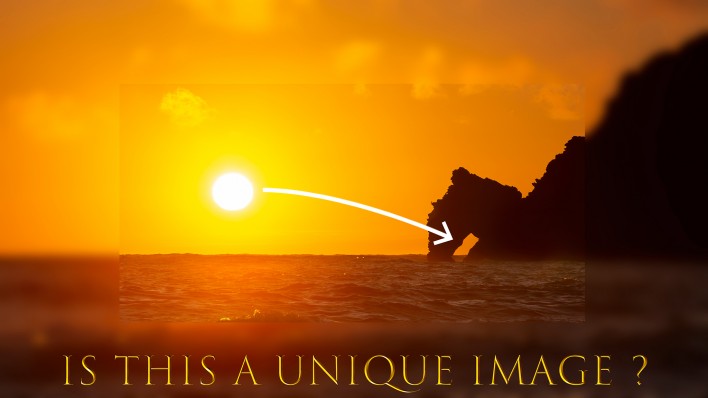 I checked my histogram on the camera to ensure I had no clipping of highlights on the darkest images of the three exposures. Auto focussing was not feasible as it struggled to lock on to the subject shooting directly into the sun. Manually focusing was the best option using 10X magnification on live view although it was difficult to see the LCD screen against the bright light.
I began to panic about miss judging the exact angle and hastily moved over to the beach walking right into the perfect position. I set up low pushing my tripod into the pebbles. After quickly levelling and focusing at 200mm focal length I fired off sets of 3 shots until the sun moved out from the keyhole. I rapidly shifted a few metres to the right to get that solar alignment again for more exposures at 70mm. Phew! In seconds the opportunity was gone.
Wow, that was exhilarating. Fingers crossed I had enough correctly taken images. "Is this a unique image?"
A few months after discovering the opportunity of the sun setting through the keyhole archway in South Devon I knew with determination and effort it would be possible to see the phenomenon.  Of course, Mother Nature and luck played a huge part in capturing the image I had visualised.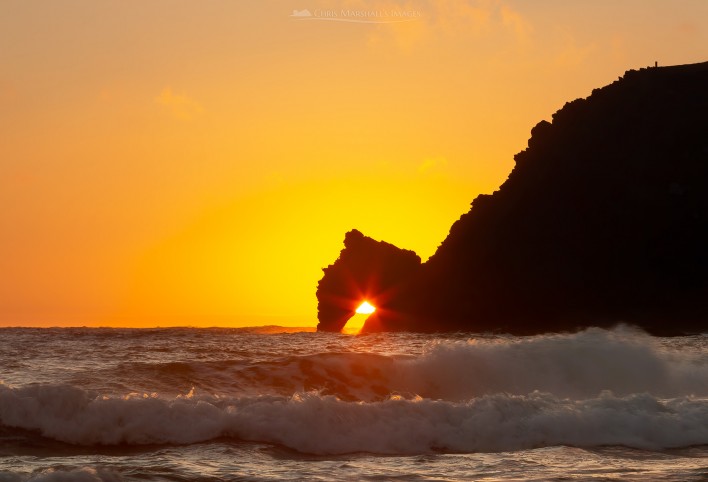 I remember taking my last shot of the evening when the sun had disappeared below the horizon then checking my images in camera and saying out loud "Yes, Yes,  I did it!"
Fighting Trees of Wistmans (10th December 2021)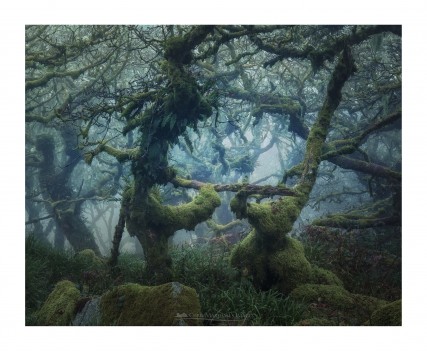 You may think that 'Fighting Trees' are fictional trees that appear in The Wonderful Wizard of Oz from the 1900s but they really exist!
These specific trees can be found in the depths of the magical Dartmoor National Park, Devon. They are ancient oaks, being hundreds of years old and deeply rooted, all in a line surrounding the dense twisted copse. Their job is to keep certain intruders out of the enchanted Wistmans Wood. They use their fighting techniques to guard and protect from disrespectful behaviour that can impact nature, oblivious to its beauty.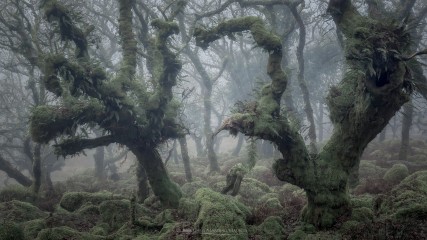 Guardians of the Woods: 
The tolkienesque tree warriors hate people damaging and taking the verdant green velvety moss from boulders. They are always on the look-out for 'twisted fire starters' and dread the long term effects it causes to wildlife, nature and our beautiful countryside. These particular sturdy dwarf oaks have thick flexible branches that substitute for arms and fingers and can easily throw humans through the air. Their gnarly bark resembles faces that allow them to see and hear everything surrounding them even through the thick mist and darkness. These 'fog shifters' have funny husky voices and always argue often complaining about the adverse weather.
So beware, be aware and enter at your peril!
Location :  Wistmans Woods, Dartmoor National Park, Devon, UK
Camera Gear  : CANON 5D Mark III with a 24-70mm f/4
Editing Software : Adobe Photoshop CC
Great Staple Tor  -  (2nd December 2021)
It was a cold and wet and 30 minutes before sunrise. Typical Dartmoor and another attempt of capturing the moorland mood at this particular Tor. I wasn't hopeful with full cloud but you never know. I checked out Google Earth the previous evening and decided to park beneath Middle Staple Tor instead of the main Merrivale Car Park. It was a shorter trek but found it steeper than expected so I took it easy. The other route is longer with a slight gradient but always marshy so if you go off track and it can be hard going. I was wearing full waterproofs over 3 warm layers and a plastic cover over my camera bag. I had my trusty light carbon fibre Manfrotto tripod and a 'Gust Buster' umbrella.
On the way up I came across a few Dartmoor ponies as usual and a cute little Shetland Pony that didn't seem bothered with me stopping close to say hello. The sky was still grey so I set up quickly facing west, the opposite way to where the sun will rise. I knew the composition well after previous visits; it's such a photographic Tor from all angles. It was slightly raining and with a strong breeze in my face and into the lens so not ideal. I always bring a few cloths to wipe the raindrops from the lens or in this case a 105mm Lee Landscape Circular Polariser. My main camera is the Canon 5D mkiii and knowing the rock stacks well I opted for the wide angle 16-35mm f/4 IS L. Its one of my sharpest lenses and wide enough to frame a full rainbow. This is what I was hoping for a little later when the sun is higher and hopefully breaks through the clouds. That's what the forecast predicted on Metcheck and BBC weather so it must be true!
I always use manual focus on live view and zoom in 10x on a particular rock and turn the lens focusing ring until it was pin sharp. The tripod was still so I selected iso100 to get less than a second. I've recently started focus stacking which is sometimes tricky and a bit of a faff especially if it's raining and you want to take a quick shot after wiping the lens dry. So I opted for one shot only, to cover the focal range, at f/11 shooting in Manual mode using the brolly to shelter the lens from the rain and multi-bursting moving the brolly out of the frame quickly. This technique seems to work to minimise the amount of rain drops. Ok, you get a few unwanted shots of the brolly as you move it out of the way but they can be deleted later.
The sky was looking moody just before sunrise with the fast moving grey clouds turning a lovely shade of red. I liked the composition and it was sharp so this was my first image to keep.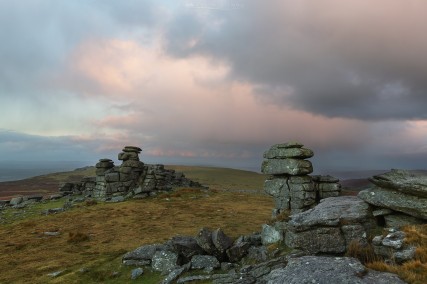 Location :  Staple Tor, Dartmoor National Park, Devon, UK
Filters : LEE landscape circular polariser
Camera Gear  :CANON 5D Mark III with a 16-35mm f/4
Camera EXIF : 1/6s  f11 iso100 27mm
Editing Software : Adobe Photoshop CC
To be continued, come back soon