Blog
Making that Decision
As a keen landscape photographer I'm constantly checking the weather, tides and sun position. It's not the blue clear skies that inspire me but the atmospheric, moody and extreme conditions. After saying that, I don't often get it right and although you see a dramatic image from me it hasn't been my first attempt at photographing it.
So I do my research and maybe look for changing conditions at sunrise and sunset times known as the golden hours. In my experience these weather changes can create amazing photograph opportunities. It could work out to be a long drive and a short walk or the other way round to reach a location in good time. I ask myself, "What chance do I have of arriving there and getting the shot I envisage?" and "Is it worth all the effort?"
I may lose sleep and use all my energy up for the day on a sunrise shoot. Nowadays I only have so much fuel in my tank before I feel fatigued.  Perhaps I'll convince myself that the exercise or should I say the aerobic workout will be beneficial to my health.
All these factors are the reasons to decide whether to take the easy route or the hard one. Taking yourself out of your comfort zone can reap rewards and in my photography world it can enable me to take an amazing photo and create another beautiful memory.
We all need to exercise, to breathe in the fresh air regularly and to get our bodies moving whether it's a flat sunny walk or a scramble up a Tor on Dartmoor on winter weather.
Another health factor I often think about is the constantly increasing screen time we spend on devices straining our poor eyes. Those precious peepers need to focus on distance subjects now and again and rest those tired focusing ciliary muscles!  I'm speaking from experience from years as a design engineer with deadlines and not taking regular breaks from my screen. Let's admit we are all guilty of staring at our TVs, computer monitors, tablets and mobile phones way too long despite the Healthy and Safety recommendations.
So returning to the outdoors, it makes us feel good with the warmth of the sun beaming down and the wind blowing on your face. We all love a serene beautiful scene, walking through an enchanting wood or watching dramatic waves rolling in. These are life's special moments and experiences that may never be forgotten and images you can rely on in times of strife or stress.
I call it my Photogratherapy !
Fighting Trees of Wistmans (10th December 2021)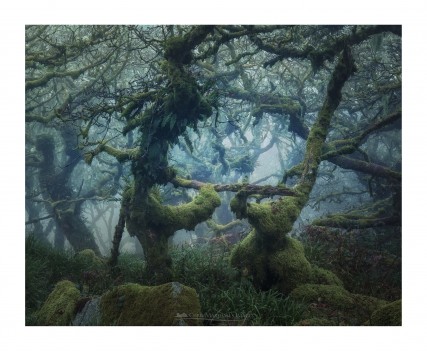 You may think that 'Fighting Trees' are fictional trees that appear in The Wonderful Wizard of Oz from the 1900s but they really exist!
These specific trees can be found in the depths of the magical Dartmoor National Park, Devon. They are ancient oaks, being hundreds of years old and deeply rooted, all in a line surrounding the dense twisted copse. Their job is to keep certain intruders out of the enchanted Wistmans Wood. They use their fighting techniques to guard and protect from disrespectful behaviour that can impact nature, oblivious to its beauty.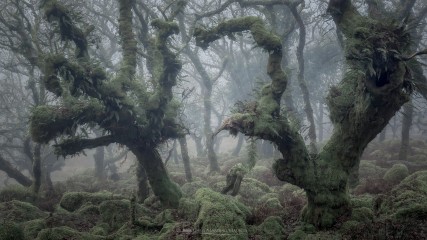 Guardians of the Woods: 
The tolkienesque tree warriors hate people damaging and taking the verdant green velvety moss from boulders. They are always on the look-out for 'twisted fire starters' and dread the long term effects it causes to wildlife, nature and our beautiful countryside. These particular sturdy dwarf oaks have thick flexible branches that substitute for arms and fingers and can easily throw humans through the air. Their gnarly bark resembles faces that allow them to see and hear everything surrounding them even through the thick mist and darkness. These 'fog shifters' have funny husky voices and always argue often complaining about the adverse weather.
So beware, be aware and enter at your peril!
Location :  Wistmans Woods, Dartmoor National Park, Devon, UK
Camera Gear  : CANON 5D Mark III with a 24-70mm f/4
Editing Software : Adobe Photoshop CC
Great Staple Tor  -  (2nd December 2021)
It was a cold and wet and 30 minutes before sunrise. Typical Dartmoor and another attempt of capturing the moorland mood at this particular Tor. I wasn't hopeful with full cloud but you never know. I checked out Google Earth the previous evening and decided to park beneath Middle Staple Tor instead of the main Merrivale Car Park. It was a shorter trek but found it steeper than expected so I took it easy. The other route is longer with a slight gradient but always marshy so if you go off track and it can be hard going. I was wearing full waterproofs over 3 warm layers and a plastic cover over my camera bag. I had my trusty light carbon fibre Manfrotto tripod and a 'Gust Buster' umbrella.
On the way up I came across a few Dartmoor ponies as usual and a cute little Shetland Pony that didn't seem bothered with me stopping close to say hello. The sky was still grey so I set up quickly facing west, the opposite way to where the sun will rise. I knew the composition well after previous visits; it's such a photographic Tor from all angles. It was slightly raining and with a strong breeze in my face and into the lens so not ideal. I always bring a few cloths to wipe the raindrops from the lens or in this case a 105mm Lee Landscape Circular Polariser. My main camera is the Canon 5D mkiii and knowing the rock stacks well I opted for the wide angle 16-35mm f/4 IS L. Its one of my sharpest lenses and wide enough to frame a full rainbow. This is what I was hoping for a little later when the sun is higher and hopefully breaks through the clouds. That's what the forecast predicted on Metcheck and BBC weather so it must be true!
I always use manual focus on live view and zoom in 10x on a particular rock and turn the lens focusing ring until it was pin sharp. The tripod was still so I selected iso100 to get less than a second. I've recently started focus stacking which is sometimes tricky and a bit of a faff especially if it's raining and you want to take a quick shot after wiping the lens dry. So I opted for one shot only, to cover the focal range, at f/11 shooting in Manual mode using the brolly to shelter the lens from the rain and multi-bursting moving the brolly out of the frame quickly. This technique seems to work to minimise the amount of rain drops. Ok, you get a few unwanted shots of the brolly as you move it out of the way but they can be deleted later.
The sky was looking moody just before sunrise with the fast moving grey clouds turning a lovely shade of red. I liked the composition and it was sharp so this was my first image to keep.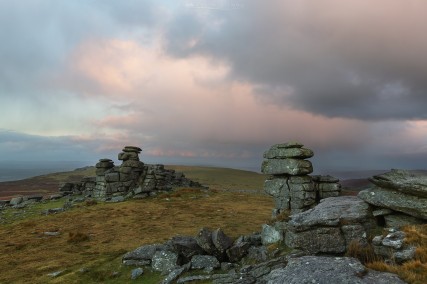 Location :  Staple Tor, Dartmoor National Park, Devon, UK
Filters : LEE landscape circular polariser
Camera Gear  :CANON 5D Mark III with a 16-35mm f/4
Camera EXIF : 1/6s  f11 iso100 27mm
Editing Software : Adobe Photoshop CC
To be continued, come back soon